Ultimate Relaxation Therapy
Ultimate Relaxation Therapy has profound healing effects on all levels of being: body, mind, emotions and spirit. It is a process for releasing toxins and re-balancing the body:
Relaxed facial muscles by releasing tension in the marma points
Released tension and tightness from the trapezius muscles, eliminating neck, shoulder pain and headaches
Drained toxins from the lymph glands which is powerfully healing
Exfoliated skin, stimulating a youthful glow
Nurtured, soothed arms, hands, feet and legs, igniting increased energy and vitality
All with velvet-like, beautifully scented oils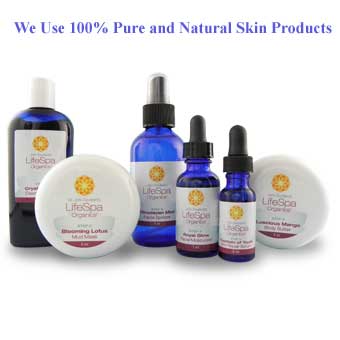 "Every aspect of this treatment is magical and beyond description.  Each phase took me into a blissful and deeper state of relaxation.   The fragrant steam and the soothing and energizing massages made me feel radiantly beautiful inside and out.   People complimented me on my "gorgeous" glow for more than 2 weeks.  This Ultimate Relaxation Therapy is the best ever!!!"

Sharon Holcomb
Benefits of Ultimate Relaxation Therapy
Eliminates toxins from the body and mind
Restores constitutional balance, improving health and wellness
Strengthens immune system
Reverses effects of stress on the body and mind, slowing the aging process
Brings about deep relaxation and sense of well-being
Beautifully glowing skin, Radiant sense of life
About Ultimate Relaxation Therapy
This is a 90 minute private session including exfoliation, deep cleansing, moisturizing, massage of facial muscles, deep relaxation of shoulders, neck, jaw, arms, hands, legs and feet using  Dr. Douillard's Life Spa products.  Includes additional time in the ifrared sauna if you like.
$120 for Ultimate Relaxation & Thai Yoga Massage — includes use of our infrared sauna.
First time? $90 for first visit.  Call Jody to schedule (734) 213-0435 or go here to learn more about ordering this service.