Experience Our Magical Yoga Retreat in Europe, August 2013, Soglio, Switzerland
Join us in Soglio, Switzerland, August 11 – 16, 2013 and discover why our guests return year after year for Yoga and Meditation in Soglio …
What Makes this the Best Yoga Retreat in Europe?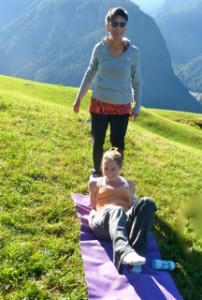 Gail Campanella
"My Soglio is a place of dreams come true.  Magical vistas, magical places, magical people and unimaginable experiences.  Mio Soglio is the best gift I have ever given myself.  Mio Soglio — O Soglio Mio!
Annie Baldoni
"Soglio — an amazing adventure — gave me insight into who I am and the fact that I am not alone.  I felt such love and generosity from the others and the inspiring beauty of the surroundings.  I would not change one event or experience I had on this trip.  And, I am truly grateful for the opportunity to have accompanied my mother to this story book place."
____________________________________________________
Patricia Denig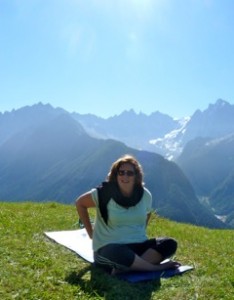 "I arrived, after dreaming of this trip for 3 years, to Jody and Rupert hanging out the window to welcome me.  The incredible vegetarian dishes would outshine any 4 star restaurant.   We even had homemade ice-cream — with hand picked berries.  Best of all was the yoga and meditation at sunrise each day."
___________________________________________________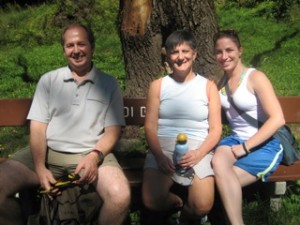 Karl Faes
"How could any yoga experience be deeper or more meaningful than Jody's gentle voice, filled with wisdom and love, in this natural beauty that is breathtaking."
____________________________________________________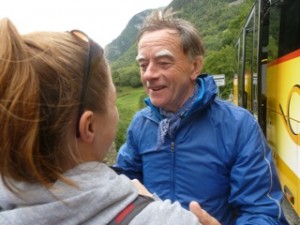 Alan Harmer
"I really loved Soglio this year…I love Soglio every year.  In fact, every year is so different from the others.  The excursions were delightful!!! And, it's my first time doing yoga up in Tombal.  I loved our supper time conversations.  Karl gave me one of the best massages I have rarely experienced.  So much of this energy comes from Jody, from her enthusiasm and vitatlity, and what she offers all of us, as a group and individually.  It's always such fun working with Rupert planning and preparing the food.  I have so much to be thankful to all who joined us this year."
__________________________________________________________
Play this short video and listen to Natalie tell you why.

You Are Invited To:
Enjoy the Swiss-Italian Alps, Soglio Switzerland style with Be In Awe Yoga on a very special yoga and hiking retreat.  Partake in meditation, chanting, great food and wonderful company as much as you like surrounded by the magnificent beauty of the Swiss Alps.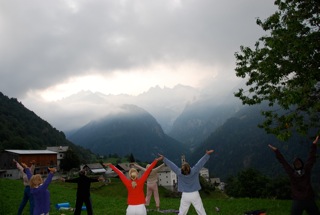 Jody Tull from Be In Awe Yoga Center in Ann Arbor, Michigan is hosting her yearly sojourn to Soglio, Switzerland for the 8th Annual Yoga Retreat in Europe in Soglio in August 2013.
Each year she meets a select group of people in Europe for her very special and truly one of a kind yoga vacation. They have a grand time in beautiful Soglio, Switzerland.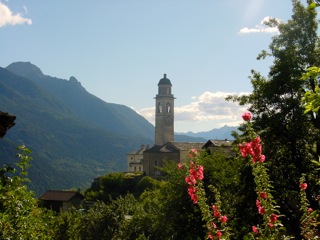 Here is a down-loadable brochure that has more of the details about the yoga retreat.
Click here to download the Solgio Switzerland 2013 Yoga Retreat Trip Sheet
The schedule is really laid back. In the morning there is yoga and meditation. During the day you can explore the mountains, go hiking, picnicking, walk to and swim in and around one of the nearby waterfalls, watch the climbers go by or even join them if you are up to it.   It is so beautiful and amazing.
On most days farm fresh vegetarian food is prepared for you.
You stay in this really cool yoga house in the mountains. It is calm and relaxing.
If you want to visit nearby towns you can do that too, but most people just end up staying in the mountains for the pure beauty and prana.
Soglio Yoga Retreat Trip Details
Price Includes
Yoga, meditation and singing fields (non-singers, of course, welcome)
Lovely Swiss accommodation
Brunch home cooked (restaurant meals, not included)
Dinners home cooked (restaurant meals, not included)
Fab recommendations and tips to be nourished during unscheduled time
Late afternoon stretches and pranayama
Evening meditation and chanting
Daily Schedule
5:45 – 6:30am
Meditation and Pranayama in the cool of the morning
6:45 – 8:15am
Hatha Yoga in a peaceful, idyllic studio
8:30am
Breakfast
10:00am – 4:00pm
Optional adventures, as you wish:
Shopping in Chiavenna, then sitting in the cobblestone centre, taking in the sights
Hiking to waterfall fed swimming holes and mountain top restaurants
Exploring the Fex Valley — share the path with horse drawn carriages
Sipping tea at the elegant Waldhaus-Sils –old world at its most lovely!!
Reading and enjoying the shade in the Palazzo Salis garden
4 – 6:00pm
Settling in stretches (depending on day's demand)
Transportation Specifics
Zurich Airport to St. Moritz by train, then to Soglio by Post Bus
Alternative routes through Milan or Munich
Details on application – the train ride from Zurich through the Alps, in a glass-roofed carriage, is one of many highlights of the retreat! Book first class on the Glacier Express, to be sure of a good seat. To get the most value, be sure to purchase a week long transport pass, good for trains and buses.
Cancellation Policy
Cancellations must be made by email to jody@BeinAweYoga.com
Cancellations within 3 months of retreat will be refunded 90%.
Cancellations after this date will be refunded 50%.
Cancellation 1 month before retreat 10% refund.
Cancellation with less than one month notice – no refund.
Reservations are confirmed upon receipt of full payment.
Payment
PayPal payment address jody@beinawe.com
Call Jody with any questions  (US Phone) 1 734 – 213 – 0435
To pay for the Soglio trip using Paypal or a credit card please click the buy now button below. You will be taken to Paypal where you can finish your transaction on their safe and secure site. Early Registration $1,395 until May 1, 2013.
Swiss-Italian Alps — August 11 – 16, 2013
All classes, accommodation, vegetarian brunch & dinners home cooked  – $1595 per person
For bookings before May 1, 2013 — $1395 per person
Reductions available for group bookings – please ask
Booking deadline firm June 1, 2013
Payment is due in full at time of booking
For More Information Please Complete This Form!
Please use this form to request more information about the Soglio Yoga Retreat or to sign up for and pay for the trip.
After you enter your details you will be taken to the payment page to pay with Paypal or a credit card. You may skip that step and come back to it later by hitting the back button, closing the window or going to another page.
Serve, love, give, purify, meditate, realize.
Please Join us in Beautiful Soglio on our Yoga Retreat Europe.
Ultimate Relaxation Therapy!

Gift Certificates

News & Specials!

Enter your Name and Email Here: