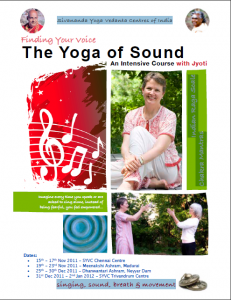 You may know that Jody Tull is currently teaching at some of the Sivananda Yoga Vedanta Centres of India and unique course called Finding Your Voice where she teaches the Yoga of Sound.
Jyoti Yoga of Sound- Poster Details PDF

Jyoti as she is sometimes referred to is currently in Chennai, India.
Dates:
• 15th – 17th Nov 2011 – SYVC Chennai!Centre
• 19th – 23rd Nov 2011 – Meenakshi Ashram, Madurai!
• 25th – 30th Dec 2011 – Dhanwantari Ashram, Neyyar Dam!
• 31st Dec 2011 – 2nd Jan 2012 – SYVC Trivandrum!Centre
Imagine every time you speak or are
asked to sing alone, instead of
being fearful, you feel empowered…
Chakra Mantras
singing, sound, breath & movement
Students will be able download a companion Practice MP3 and Workbook at the Be in Awe Yoga Boutique in just a few days.  This is a perfect solution to building your confidence for singing or chanting Chakra Mantras and the Indian Raga Scales.
Be in Awe Yoga Center, Ann Arbor, MI
"This is probably one of the best massages I've ever had.  It was completely different from other massages because you are fully clothed.  It is like having yoga done to you, on you while you totally relax" said Lana Hawkins after receiving her first Thai Yoga Massage.
Having a Thai Yoga Massage at Be In Awe Yoga also increases the value of the experience.  The yoga massage area is on the second level of the Be In Awe Yoga Cottage on Broadway in Ann Arbor.  The huge window is right next to you and you see two large evergreen trees.  It's like you are in a very nicely appointed tree house!
NOTE: Be In Awe Yoga has moved.  The new address is:
Be in Awe Yoga Center
2220 Rivenoak Court,
Ann Arbor, MI 48103
and is right on the edge or Bird Hills Nature Area and as serene as ever.